Community Page / Information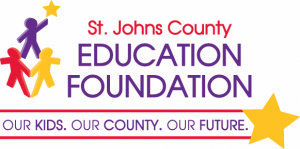 The St. Johns County Education Foundation, Inc. (SJCEF) is a public, non-profit 501 (c)(3) corporation recognized as the direct support organization for the St. Johns County School District. The SJCEF's mission is to lead the efforts of the entire community in raising and distributing funds to support all of our public schools. Programs that are supported by the SJCEF are Teachers of the Year Celebration, Horizon Mini-Grants, Art Attack!, Take Stock in Children, Supplemental Educational Services Tutoring Program, and Tools for Schools. 100% of donations are spent on St. Johns County students, teachers, and programs. Please visit www.sjcef.com to make a donation or learn more about the SJCEF. Learn more about on License4Learning.
---
Ketterlinus Voluntary Pre- K Program
Read the VPK letter which was sent to parents.
---
Know the Rules
Everyday students are walking to and from school. Here are two notices that are simple and easy to understand. Please share these with your children. The information is published by the National Center for Missing & Exploited Children, U.S. Department of Justice.. The information is excellent and was provided by Captain Mier, St. Johns County Sheriff's Department.
---
Internet Service
Comcast is offering internet service and computers at a reduced price for students who recieve free and/or reduced lunch. For more information please visit the Internet Essentials website.
---
Florida's Agriculture Museum
Offers guided tours on horseback and many more activities. For more information please see their brochure.
---
Fostering Children
The community based care agency for foster care is seeking our help in securing foster parents for children in St. Johns County. They asked if we could put a statement in each of the school newsletters or on each school's website to ask for assistance. The statement they would like to see is as follows:
Skilled and loving caregivers are needed for St. Johns County children who cannot safely remain in their homes. For more information on becoming a foster parent, call 904-209-6131.
---
McKinney-Vento Act Services
Are you living in a shelter, motel, vehicle, or campground; on the street; in abandoned buildings; or living with friends or relatives to to an economic hardship, are you a teenager and living independently or with someone other than a parent or legal guardian; then you may be eligible to receive services provided under the McKinney-Vento Act. Contact your school Computer Operator or your local Homeless Liaison-Mr. Chris Stone @ 547-7589 for more details. You may also visit: http://www.seirtec.org/nche/
The ASSIST/ Homeless Program for St. Johns County School District is now selling tickets to The Players Championship. Get more information about the ASSIST/ Homeless Program.
---
50th No More
50th No More is a non-partisan, statewide, grassroots group of parents and community members who all care about public education in Florida, based in St. Johns County. For more information, please check our our FAQ Flyer.
---
 2013 Flagler College Athletic Camps