For More Information Contact: Mr. Rogers – Guitar & String Orchestra Classes: 904-547-3841
CLICK HERE – for more information about the Music Department!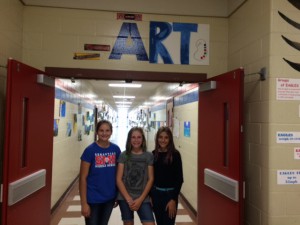 More photos of Art work can be found on the Art Department's Page.
Ms. Heather Hagy and Ms. Kelly King instruct Art at Sebastian. Please see your student's HAC account to contact them.
Visit our page! CLICK HERE
STEAM = Science & Technology interpreted through

Engineering & the Arts, all based in Mathematical elements.

CLICK HERE to see the STEAM page.


 
This Department is run by Ms. de CAstro.
Mr. Chad Razy,  Ms. Cheyenne Lightsey and Ms. Whittaker are our Physical Education teachers. You can find their page here.
(ICT) Information And Communication Technology