School Advisory Council (SAC)
–Chair: Heather Hagy
2017-2018 Sebastian Middle School School Advisory Committee.
The meetings have been scheduled for once a month at Sebastian Middle School.
Our first meeting will be Tuesday, August 21 at 5p.m. in the multipurpose room on campus.  The PTO kickoff meeting is immediately following at 5:45. 
Pamela Cooper, our Instructional Literacy Coach will co-chair SAC with me this year.  
The 2017 – 2018 School Improvement Plan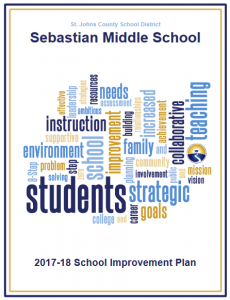 For past notes and agendas – Click Here
Once again, thank you for all your support.
Thank you,
Mrs. Hagy