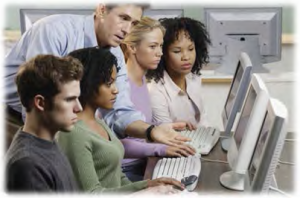 The Career and Professional Education Academy of Information Technology at Sebastian Middle School offers students with an interest in technology an opportunity to take the Information & Communications Technology (ICT) Essentials sequence which prepares students for all high school career, technical and information technology (IT) coursework and academies.
The purpose of the ICT courses are to provide students with the computer, digital, and information technology skills necessary for success in their future academic and occupational goals. In addition to fundamental computer information, the content includes but is not limited to digital technologies associated with web development, multimedia, word processing, spreadsheet, database, Internet communications, cybersecurity, and computer programming.
Our ICT students will all be eligible to receive Digital Tools industry certifications. These certificates give students an advantage with future coursework.
ICT leader:   Bernie Huffman