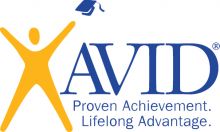 The AVID (Advancement Via Individual Determination) program was designed to help prepare students for advanced coursework and success in a four- year university program. At Sebastian Middle School, students in the program are enrolled in advanced coursework and an AVID elective class to help provide academic support. The AVID class is the key piece in student success. The AVID class consists of:
Two class periods (45minutes) of the AVID curriculum, where students work on writing, inquiry, collaboration, organization and reading (WICOR),
Two class periods (45minutes) of tutorials, where students work in collaborative groups (tutorials) on academic areas that they need support (college students facilitate this process)
One class period (45 minutes) of team building and/or college and career experiences (i.e. field trips to universities throughout the state).
Students have to be motivated and demonstrate individual determination, as well as have a desire to attend college to be a part of the program.
Some important links for you to explore: