The mission of the SMS PTO is to improve the educational experience of students by supporting SMS teachers and administrators.  We accomplish this mission by raising funds and encouraging/facilitating parental involvement in our school.  The SMS PTO is a 501-c-3 nonprofit organization which does not pay dues to a national PTO organization. 
All donations to the SMS PTO are 100% tax deductible and all are used to support the educational programs and facilities of SMS.
Please click on the following links for more information about our activities and programs for the current 2019 – 20 school year.  Feel free to contact us anytime with questions or suggestions at [email protected]. Also be sure to follow us on Facebook at "Sebastian Middle School PTO." We look forward to working with you!
*** If you were unable to attend the Open House/Curriculum Chats in August 2019, please feel free to look over the presentation at the following links:    Open House
Shop Amazon Smile!
Amazon Smile offers the same products, prices, and shopping features as Amazon.com, but when you shop on Amazon Smile, the Amazon Smile Foundation will donate 0.5% of the purchase price of eligible products to the charitable organization of your choice! To support SMS, visit https://smile.amazon.com/ and sign up to support "Sebastian Middle School Pto Inc." Remember to always begin each shopping "trip" at smile.Amazon.com to support SMS.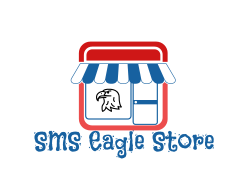 The Eagle Store Opens on 9/13!
As an integral part of our Positive Behavior Incentive System (PBIS), the Eagle Store gives students the opportunity to use the reward points they have worked so hard to earn from their teachers.
The PTO will open the Eagle Store on Fridays, during all three lunches from 10:00am—12:10pm. The store will be open once every three weeks throughout the school year.
Students may purchase snacks and/or school supplies in the store with points earned through the SMS points-based rewards program.The store is stocked by donations from our SMS families and the PTO.
Eagle Store Volunteers and Donations Needed!
The PTO opens the Eagle Store once a month to give students a chance to spend their hard-earned PBIS reward points. We need your help to staff the store and stock it with fun prizes! You can click here to view the Eagle Store Wishlist on Amazon and ship items directly to SMS. In addition to your donations, the PTO needs parent volunteers to staff the store on the days when it's open. Click here to open Sign-Up Genius to select your date(s) to volunteer. As always, thank you for your generous support of this great program!
2019-2020 PTO Board List
Jen Stevenson – President
Jo Ellen Parkey – Vice President
Stefanie McMaugh – Secretary
Jennifer Farrow – Treasurer
Jenny Persson – Asst. Treasurer
Jessica Hoffman – Eagle Store
Deidre Kenny/Jackie Baird – Hospitality
Thanks to all our SMS Business Partners of 2019-20
Red Level – $100
Gordon Dental    –      Jet Consulting Inc.
Ripple Effect Ecotours   –  Color Street Stylist, Kim Rossi
Blue Level – $250


T6 Studios LLC       –      The J. Phillip and Davise Mahoney Family
Florida Landscape and Nursery Inc.        –        Purple Olive
BEHST Builders      –    GZ Handyman Services LLC
A-Ford-Able Automotive Services, Inc    –    Jersey Mike's
Chicken Salad Chick   –    Antigua Orthodontics
Earthly Elements Sports Massage   – Photos by Rob Futrell
Eagles – $500
Realtor, Sunshine Realty, Dan Lang
Family Kia
Britt Haslett, Bridge City Real Estate Co.
Principal – $1,000
          Global Maritek Systems/Vessel Maintenance Division
Diane's Natural Market
Bailey Health Solutions
Abare, Kresge & Associates
Coastal Foot and Ankle Wellness Center
Marble Slab Creamery
Green Light Group Tours
B.R. Fox & Associates
Rack Room Shoes
Pinnacle – $10,000
The Halbrook Family Foundation