JOIN A SMS CLUB  !!!!
ArtCLub:
Students will work on independent projects, murals for the school and will deepen their art practice with Ms. Hagy.
Will begin in October.  Please pick up a permission slip in the front office.
---
Cross Country:
Coach Hayes
Cross Country is designed for all levels of runners. Our program is designed to introduce students to goal setting and competition as well as to promote physical fitness. We train on Tues. and Friday after school until 3:30pm. The team will run a schedule of meets on Wednesday afternoons at Gamble Rodgers(10/11), Fruit Cove Middle (11/1), Landrum Middle School (11/8), and Bartram Trail High School (11/15).
---
SWAT Club:
SWAT works to change the social norms associated with tobacco. This means we want to change the way people think about tobacco… making it less desirable, less acceptable and less accessible. We do this by advocating for change in local policies that affect how tobacco is marketed, how it is sold, and where it can be used. SWAT members can expect to participate in a wide range of activities including community education and outreach, public speaking, collecting data, and media advocacy. SWAT members advocate for these goals by leading projects guided by professionals. As a member, they decide how to use advocacy to cause social change in a fun, cool and creative way. The important part is, SWAT gives youth real world experience: community service hours, college application building opportunities and hands on experience in leadership and advocacy.
 SWAT meets the last Tuesday of the month at 2:15 in Eagles Nest.  An activity bus is available.  Please see Ms. Fortune for a parent permission slip.  Thank you.
---
Builders Club:
TBA Ms. Pardo
---
Where Everybody Belongs (WEB):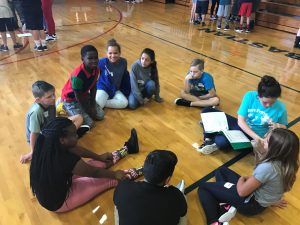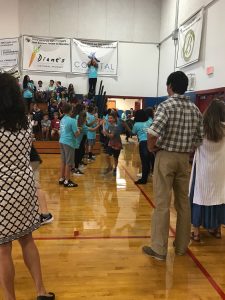 Monthly meetings for select 8th grade students
Student leadership and empowerment group
---
Bridge Club:
This club has just formed. Most of the members are NJHS members but we are currently opening our doors to others outside of NJHS who are interested in learning to play the ultimate card game. We are learning to play the most modern form of Bridge available and have received sponsorship in part from the American Contract Bridge League. We play Bridge after school every Thursday until 3:30 and we also meet during Eagle Hour.
---
First Lego League Robotics Club
would like to begin meeting on Tuesdays and Thursdays until 3:30.  Ms. Harvey and I will be leading this organization. We will be sending home a letter to let parents know that meetings will begin next Thursday after school.  This will allow students who are unable to attend Eagle hour, to be able to participate in our competition teams.  Please let me know if you have any questions.
Thank you!  Jessica Brown
---
Dance Team-Theresa Esguerra (coach): 
Dance practices will be on Mondays after school and Eagle Hour on Wednesdays during school.
The Dance Team will perform at the SMS Pep Rally, The Wizards Game and all home basketball games.
---
This club involves SMS students with the community by spreading awareness and taking action on homelessness, animal cruelty, the environment, bullying…
Meets every Tuesday 2-4:30

Do something, changing the world one day at a time!

Contact:

Ms. Pardo, Sebastian MS ESE Support Facilitator
---
---
Contact: Ms. Ramano
e012614@stjohns.k12.fl.us