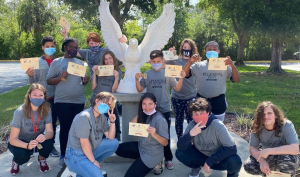 We are very grateful for our partnership with The 13 Keys Scavenger and Mystery! This local business designed a scavenger hunt throughout our building based on STEM clues. The students who participated were those who have worked hard to improve their reading skills and participated in our Reading competition. They also received $15 gift certificates for the book fair and a t-shirt courtesy of our School Action Committee, and a Chic Fil A lunch thanks to the PTO. The students had a great time and on average their reading level improved by half a grade level in just 6 weeks. Congratulations to all involved and a special thank you to Ms. Gamble and Mr. Hodges for organizing this event.   Click here for more pictures!
Resources for Parents
FAQ for Emergency Order 2021-EO-02 (Spring 2021 Assessments, Promotion, Retention, Graduation, VPK)
The SJCSD Guidance Department has provided an FAQ to answer common questions about Executive Order Number 2021-EO-02 which was recently issued by the Florida Department of Education. The FAQ discusses the impact Executive Order 2021-EO-02 will have on assessments, promotion, retention, graduation, and VPK.
District Parent NewsletterS
Read monthly newsletters from the St. Johns County School District.
Please see testing link above to see all the testing information for May and June. 
Sebastian Middle School is STEM Certified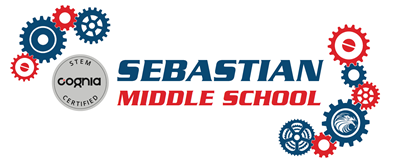 At Sebastian Middle School all children will achieve personal success in their learning and become responsible and productive citizens.
ESE Parent Advisory Meetings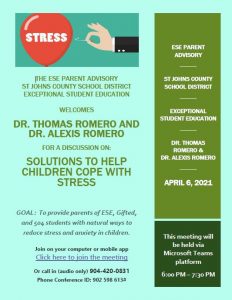 On April 6th from 6:00pm to 7:30pm, the ESE Parent Advisory will welcome Dr. Thomas Romero and Dr. Alexis Romero for a virtual discussion titled "Solutions to Help Children Cope with Stress." Join the meeting online via Microsoft Teams or join via phone by dialing 1-904-420-0831 and then entering the conference ID: 902 598 613#
Fill Out Your Volunteer School Access Form!
In a continuing effort to provide safety and security to our students and staff we ask that you complete a School Access Form if you plan to enter a facility in the St. Johns County School District. Any person passing beyond the front office area must show a valid driver's license or state identification card.
It is recommended individuals include their middle name when completing the online application; and, if no middle name, then please use the acronym "NMN".  
FortifyFL is a website and app developed at the direction of the Florida Legislature. Any student, educator, parent or member of the public can report school safety concerns directly to law enforcement and school administrators anonymously and easily through the FortifyFL app or getfortifyfl.com.