*** See Spring Play information below ***
Congratulations!  This weekend at the Florida STATE Junior Thespian Festival each of SMS' 9 students earned a Superior Rating in the following areas
Evie Bigalke – MONOLOGUE
Trevor Gawlak – MONOLOGUE
Morgan Hashagen – COSTUME DESIGN
Morgan Hashagen – SOLO MUSICAL
Miles Sostrom – SOLO MUSICAL
Makinzie TenEyck – MONOLOGUE
Makinzie TenEyck/Marlie McCutcheon/Grace Brown/Avaya Brown – 
ENSEMBLE ACTING 
SirIsrael Williams – MONOLOGUE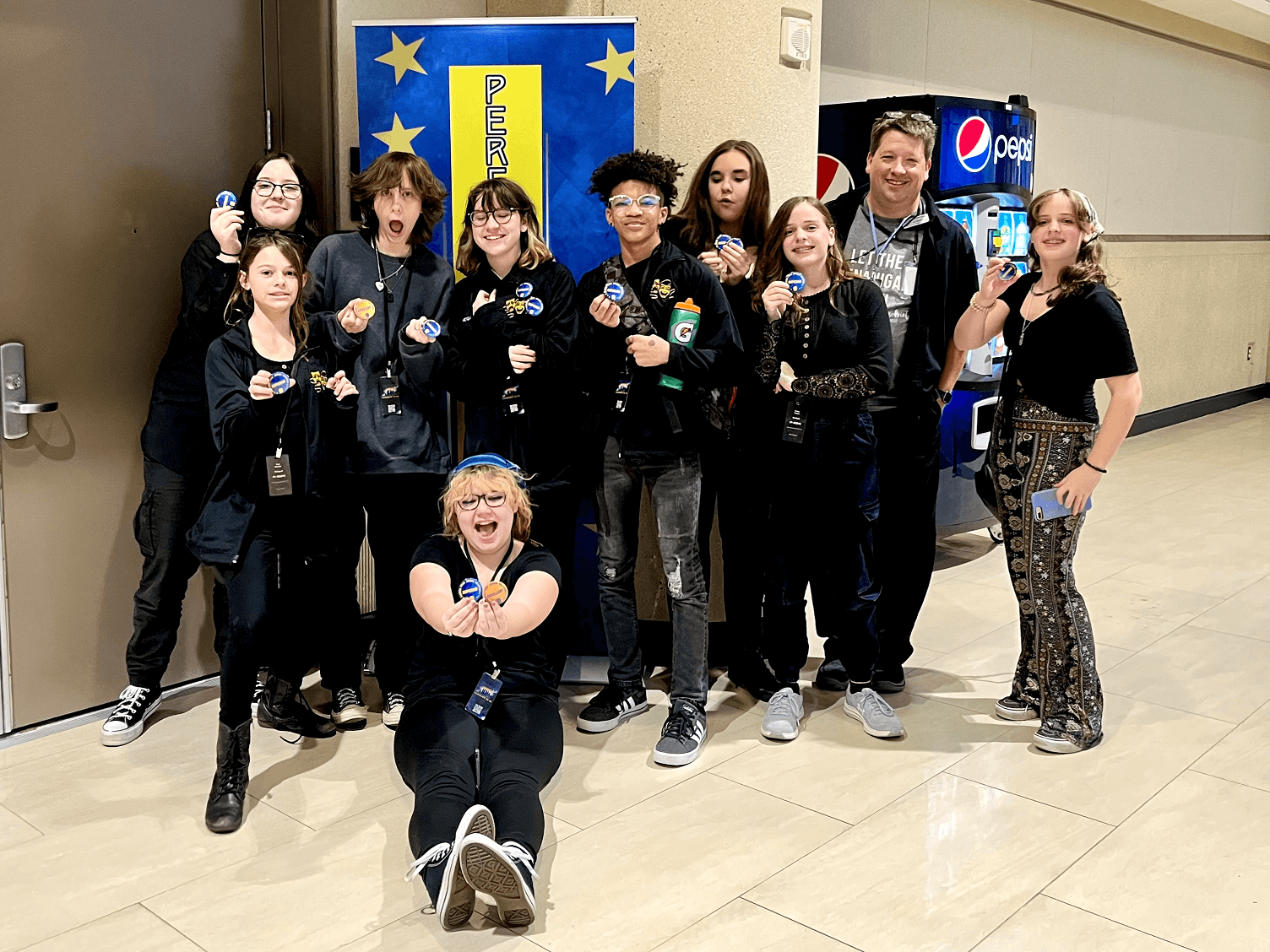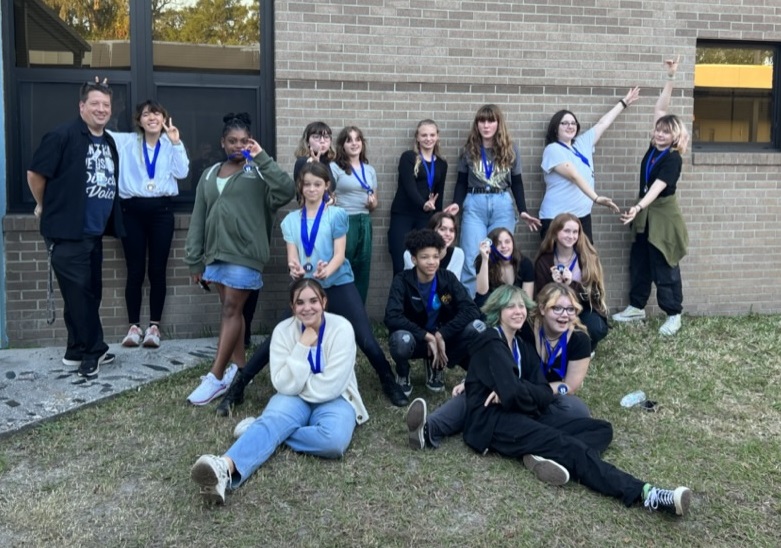 On Saturday, December 3 SMS sent 17 students to the District 1 Florida Junior Thespian Festival at Landrum Middle School where they spent the day competing with monologues, scenes, songs, costume designs, playwriting, and an original one act play. The day also included workshops with local theatre professionals and performances from Broadway/Disney  husband and wife team Lindsay and Jared Bradshaw. 
During closing ceremonies, Makinzie TenEyck received Top Honors for Playwriting and Morgan Hashagen received Top Honors for Costume Design. SMS's original one act, featuring 15 performers and 2 technicians received a Superior rating as well as Makinzie, Morgan and Lillian Storey (Costume Design).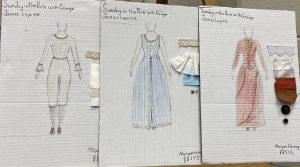 9 Students will be representing SMS at the Florida Junior Thespian State Festival in Orlando on Jan 14 for another amazing day of competition, workshops and performances with the best in middle school theatre from around the state! 
SMS students received the following honors in December:
Superior Rating:
One Act Play "I Just Don't Like Her" – 
Superior Rating and Top Honors:
Makinzie TenEyck – SCENE WRITING 
Morgan Hashagen – COSTUME DESIGN
Superior Rating and Top Honors
Lillian Storey – COSTUME DESIGN – Superior Rating
Excellent Rating:
Evie Bigalke –  MONOLOGUE
Evie Bigalke/Megan Rosario – PANTOMIME
Trevor Gawlak – MONOLOGUE
Morgan Hashagen – SOLO MUSICAL
Miles Sostrom – SOLO MUSICAL
Miles Sostrom/Marlie McCutcheon –  DUET MUSICAL
Lillian Storey – SOLO MUSICAL
Makinzie TenEyck – MONOLOGUE
Makinzie TenEyck/Marlie McCutcheon/Grace Brown/Avaya Brown – ENSEMBLE ACTING
SirIsrael Williams – MONOLOGUE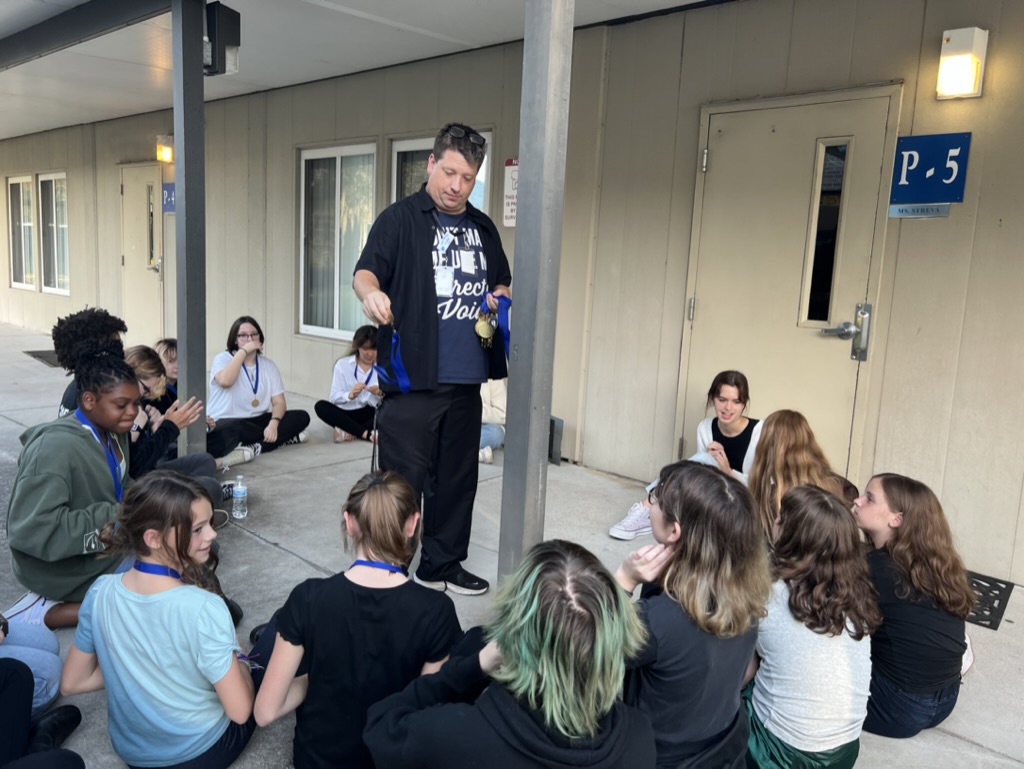 We are excited to announce that our spring play is "The Murder Mystery at the Murder Mystery".
PLAY SUMMARY: The players at The Murder Mystery Playhouse are rehearsing a new show, Putting a Little English on It.  It's a not-so-good attempt at a British murder mystery, complete with cheesy dramatic music and terrible British accents.  As expected at the final dress rehearsal, the lights go out and a character dies onstage — only this murder wasn't in the script!  The authorities are quickly called, and soon the company finds themselves replaying the death scene.  When yet another person dies at the end of the same scene, the cast finds themselves replaying the same scene over and over for other investigators, a theatre critic, and even the playwright himself!  But every time they get to the end of the scene, someone else ends up dead.  The actors are left scratching their heads at the strange circumstances and also worried that they could be next.  It all culminates in a wild surprise ending in which the actors must work together to defeat the murderer before he murders them all.
Rehearsals/Performances for the show are Feb-April  (see the schedule below for details)
WHO IS ELIGIBLE TO BE A PART OF THE SHOW?
Any 6th-8th grader at SMS
WHAT IF I'VE NEVER DONE A PLAY BEFORE?
Great! This is an opportunity to see if it is something you would be interested in and to start getting involved!
WHAT CAN I BE A PART OF WITH THE SHOW?
There are 14 acting roles and a few non-speaking roles.
There are many Backstage opportunities such as: Stage Manager, Sound Design/Operator, Light Design/Operator, Costume Coordinator, Prop Design/ASM.
There are also ways to help build/paint props/sets and help during the show by being Ushers (handing out programs, etc.)
WHO CAN'T BE A PART OF THE SHOW?
Anyone who has an in or out of school suspensions this semester.
Anyone who cannot attend all required rehearsals/performances for their role (see attached schedule)
HOW DO I SIGN UP TO AUDITION for an ACTING ROLE?
In order to audition for an ACTING ROLE you need to fill out the THIS FORM by FRIDAY, Jan 27 by midnight. https://forms.office.com/r/jHVmRRRpTx
Acting Auditions will take place on Tuesday, Jan 31: 2-3pm. Callbacks will take place on Thursday, Feb 2: 2-3pm.  You must be available for both dates.
Students will read a short scene from the script with other students for the audition.
Students will receive a contract that they and their parents must sign that must be turned in by Feb 2 in order for them to be considered for any role.
HOW DO I APPLY FOR A BACKSTAGE ROLE?
In order to work on the production in a BACKSTAGE ROLE (lights, sound, costumes, props. Etc.) you need to fill out THIS FORM by Wednesday, Jan 25 at midnight. https://forms.office.com/r/aR6eXjRgYC
Students will be notified if they were assigned a position by Friday, Jan 27.
Students will receive a contract that they and their parents must sign that must be turned in by Feb 2 in order for them to accept their assigned position.
CAN I AUDITION FOR AN ACTING ROLE and APPLY FOR A BACKSTAGE ROLE?
Students must choose either ACTING or BACKSTAGE – you may not apply to both.
If you do not receive an Acting or Backstage role you can still assist with the play by helping with Crew Calls as Set and Prop Builders/Painters or with performances as an Usher/House Manager.
HOW DO I READ THE SCRIPT?
When you sign up using the Audition OR Backstage form you will be invited to the 4M (the 4 M's stand for Murder Mystery at the Murder Mystery) Schoology Group.  There you will be able to access the digital script to read the play.  If you want to read it before you decide to audition just email Mr Becker at [email protected]
REHEARSAL/PERFORMANCE SCHEDULE Please note that this schedule is subject to change!
Tuesday Feb 7             2-3pm Rehearsal
Thursday Feb 9           2-3pm Rehearsal
Tuesday Feb 14           2-3pm Rehearsal
Wednesday Feb 15    1-3pm Production Meeting
Thursday Feb 16         2-3pm  Rehearsal
Tuesday Feb 21           2-3pm Rehearsal
Thursday Feb 23         2-3pm Rehearsal
Tuesday Feb 28           2-3pm Rehearsal
Wednesday Mar 1      1-3pm  Crew Call
Thursday Mar 2           2-3pm Rehearsal
Tuesday Mar 7            2-3pm Rehearsal
Thursday Mar 9           2-3pm Rehearsal
Tuesday Mar 14          Spring Break 
Thursday Mar 16         Spring Break
Tuesday Mar 21          2-3pm Rehearsal
Thursday Mar 23         2-3pm Rehearsal
Tuesday Mar 28          2-3pm  Rehearsal
Wednesday Mar 29    1-3       Crew Call
Thursday Mar 30         2-3pm  Rehearsal
Monday Apr 3             2-3:30  Rehearsal
Tuesday Apr 4              2-3:30 Rehearsal
Wednesday Apr 5       1-3:00  Crew Call       
Thursday Apr 6            2-3:30  Rehearsal
Monday Apr 10           2-4       Tech Rehearsal
Tuesday Apr 11           2-4       Tech Rehearsal
Wednesday Apr 12     1-4       Tech Rehearsal
Thursday Apr 13          2-4       Tech Rehearsal
Monday Apr 17           2-5       Dress Rehearsal
Tuesday Apr 18           2-5       Dress Rehearsal
Wednesday Apr 19     1-5       Dress Rehearsal
Thursday Apr 20          2-6       tba
6pm     Performance
Friday Apr 21               5pm     Actors/Crew Arrive
                                    6pm     Performance