The School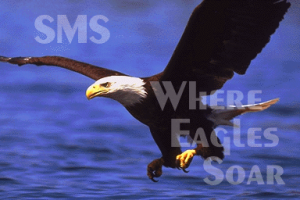 Opened in 1991, and located just north of historic downtown St. Augustine, Sebastian Middle School serves 6th, 7th, and 8th grade students from the greater St. Augustine area. The school property is situated on 77 acres of land; the school building and parking lots have a 21-acre footprint, the athletic field is 15 acres, and the rest is protected wetlands.
---
Vision / Mission Statement
Sebastian Middle School will provide educational opportunities that promote life-long learning within a safe environment. Our entire staff is dedicated to providing a safe, clean environment in which our students have the opportunity to learn and grow.
---
Quick Facts
Population averages 600-800 students
Feeder Elementaries: Crookshank, RB Hunt, Ketterlinus and Palencia
Feeder High School: St. Augustine
School Colors: Red and blue
School Mascot: American Bald Eagle
---
Program Highlights
ACCESS (Academy for College and Career Educational Success at Sebastian)
AVID (Advancement via Individual Determiniation)
ESE programs- Support Facilitation, VE, ID and ASD
Science Fair
Guitar, Drama and Chorus Programs
Take Stock in Children School
ESOL Services
National Junior Honor Society
School Advisory Council
PTO
EPIC Services
---
Special Events
Several special events will occur during the school year and will be publicized with details for your information. Sebastian traditionally holds the following annual special events:
Fall Festival is an in-school fun afternoon of games, food and contests held at the end of October. Students purchase tickets to participate in the activities of their choice. Parent participation includes providing baked goods and helping with the assorted team game booths during the festival hours. All proceeds from the event go toward defraying the cost of student activities.
Science Fair provides students with the opportunity to showcase their science knowledge. Participation is encouraged for 6th graders and is a requirement for 7th and 8th graders. School winners will move on to county competition. Each year Sebastian has proudly sent students on to district and state competitions.
Multi-cultural Fair is held in the spring each year. This is a thematic fair based on a school-wide unit of study. The event features crafts, cultural items, productions and food representative of the unit(s) of study. The community is invited to participate and attend this evening open house that showcases student work.
8th Grade Washington, D.C. trip.