SA 5-20-2016 from Ted Banton on Vimeo.
Final Exam Schedule
Please click the link below for the classroom exam schedule for the remainder of the school year. Study hard and good luck Eagles!
SMS Final Exam Schedule May 2015
Eighth Grade Graduation Invitation
Sebastian Middle School Summer Learning
Summer learning assignments will be posted by the end of the school year.
---
Free Use of High School Outdoor Facilities This Summer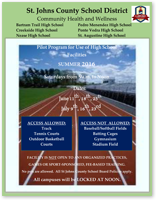 For six Saturdays in June and July, outdoor facilities at each of our high schools will be open for public use to promote community health and wellness. Some restrictions apply.
Please view the flyer for details.