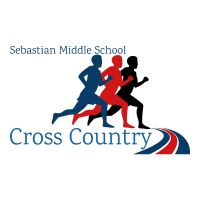 Starts Tuesday, September 9th, 2019
Sebastian Middle School will begin our XC training on Tuesday, September 9th, 2019. The team is designed for all levels of runners. Our program will introduce students to goal setting and competition. We will train on Tuesday and Thursday after school until 3:15pm. Students need to supply their own running shoes and practice clothes. Students will also need to provide their own transportation home after training. Students can be picked up in the back-bus loop at 3:15pm. We kindly ask that students are picked up on time. If they are consistently picked up late, they will not be allowed to continue practicing.
Parent pick-up is required; if you need assistance organizing a carpool, please contact Parent Liaison [email protected]
The team will run a schedule of meets and there will be more information to come on dates and how many. Runners will need their own transportation to and from meets. We will also encourage students to run with the coaches, faculty, and staff of SMS in the https://www.pinkupthepace.com/ run. We will sell t-shirts for the run for five dollars and give more information at practice.  If you have any questions, please feel free to contact Coach Gray or Coach Hagy.
Coach Gray – 407-765-0791     [email protected]
Coach Hagy – 904-704-0199     [email protected] 
Students must have a current physical on file dated within one year to participate.
For a permission slip  Click Here
The Athletic Director for the school is Chad Razey:  [email protected]