Welcome to the Sebastian PTO Webpage!


The mission of the SMS PTO is to improve the educational experience of students by supporting SMS teachers and administrators.  We accomplish this mission by raising funds and encouraging/facilitating parental involvement in our school.  The SMS PTO is a 501-c-3 nonprofit organization which does not pay dues to a national PTO organization. 
All donations to the SMS PTO are 100% tax deductible and all are used to support the educational programs and facilities of SMS.
Please click on the following links for more information about our activities and programs for the current 2018-19 school year.  Feel free to contact us anytime with questions or suggestions at [email protected]. Also be sure to follow us on Facebook at "Sebastian Middle School PTO." We look forward to working with you!
Volunteer Opportunities
Attention Parents, Grandparents, Guardians and other family members! We need your help this spring at Sebastian Middle School!
There are several volunteer opportunities available over the next few months. Please click on the link beside each event to view dates and times when volunteers are needed. No experience is ever necessary to volunteer! Any "training" you need will be provided onsite. Thank you in advance for your gift of time to SMS!
Book Fair: February 25 – March 1 https://www.signupgenius.com/go/60b0f4aacae2ea6ff2-smsbook
Eagle Store: Wednesdays February 27 – May 15 https://www.signupgenius.com/go/60b0f4aacae2ea6ff2-eagle
Exam Proctors: April 2 and May 2-17 https://www.signupgenius.com/go/60b0f4aacae2ea6ff2-spring
*** If you were unable to attend the Open House/Curriculum Chats in October 2018, please feel free to look over the presentation on the following links:    6th Grade      7th & 8th Grade
PTO Alternative Fundraiser Information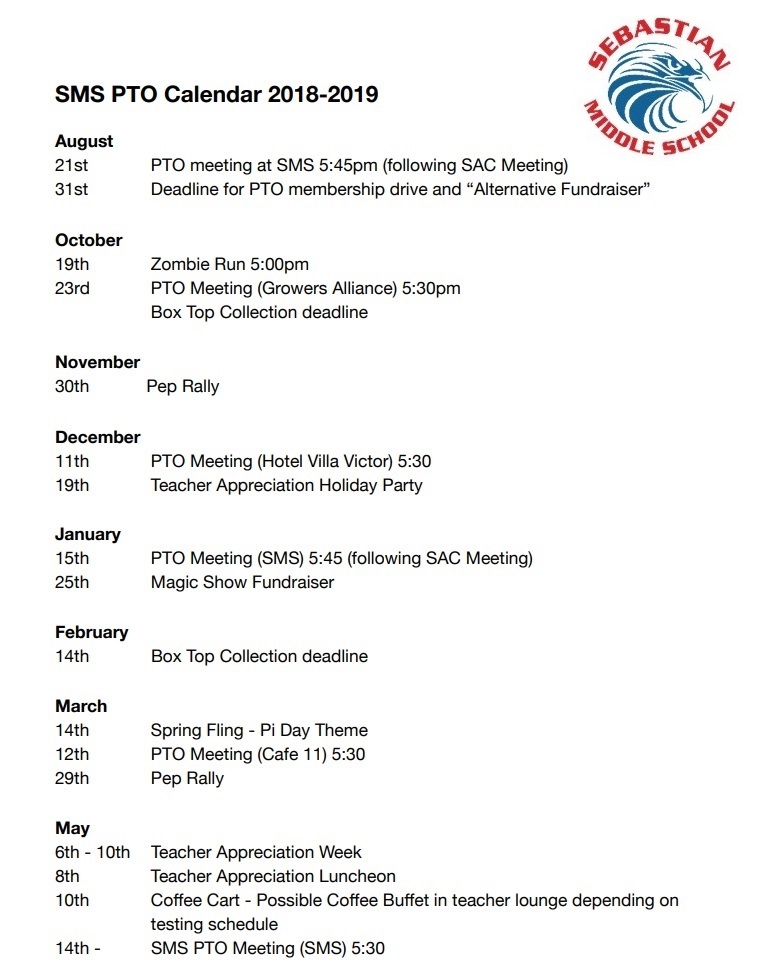 ---